Electronic Organizer Case Travel Double Layer Electronics Bag Organizer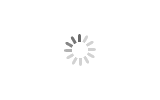 Electronic Organizer Case Travel Double Layer Electronics Bag Organizer
Worthfind

500 Units Per SKU

Custom time 45-55 Days

50000pcs/Month

BM0101111AN

BM0101111AN

24*17*3.5cm
Stock Available and Ready to Ship Now.

Multiple Payment Methods: Bank Transfer, Credit Card, Letter of Credit, Alipay, Apple pay, etc.
◆
Large Capacity
-
10.2''L x 7.9''Wx 2.4''H a comfortably big enough travel electronic bag for holding most of your electronics with ease.
◆
Quality Material
-
Electronic Organizer Bag is made of durable and water-repellent material, protect the items from rains, scratches, collisions, dust, and accidental drops.
◆
Organized
-
Three front pockets with Velcro closure convenient to keep your accessories organized and easily access to the port of the portable charger charging your iPhone.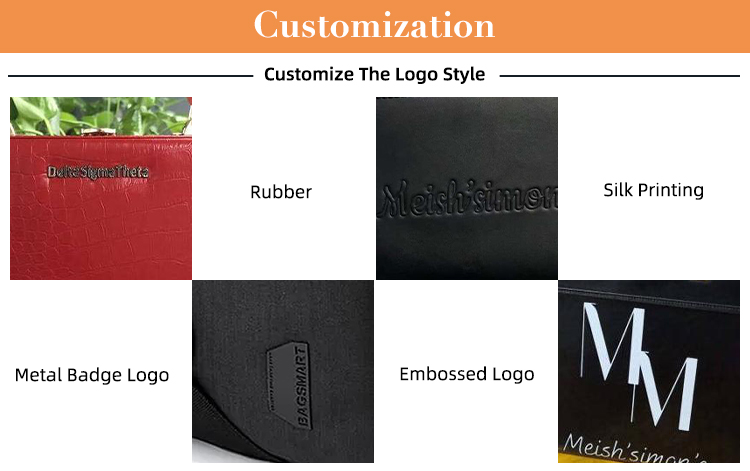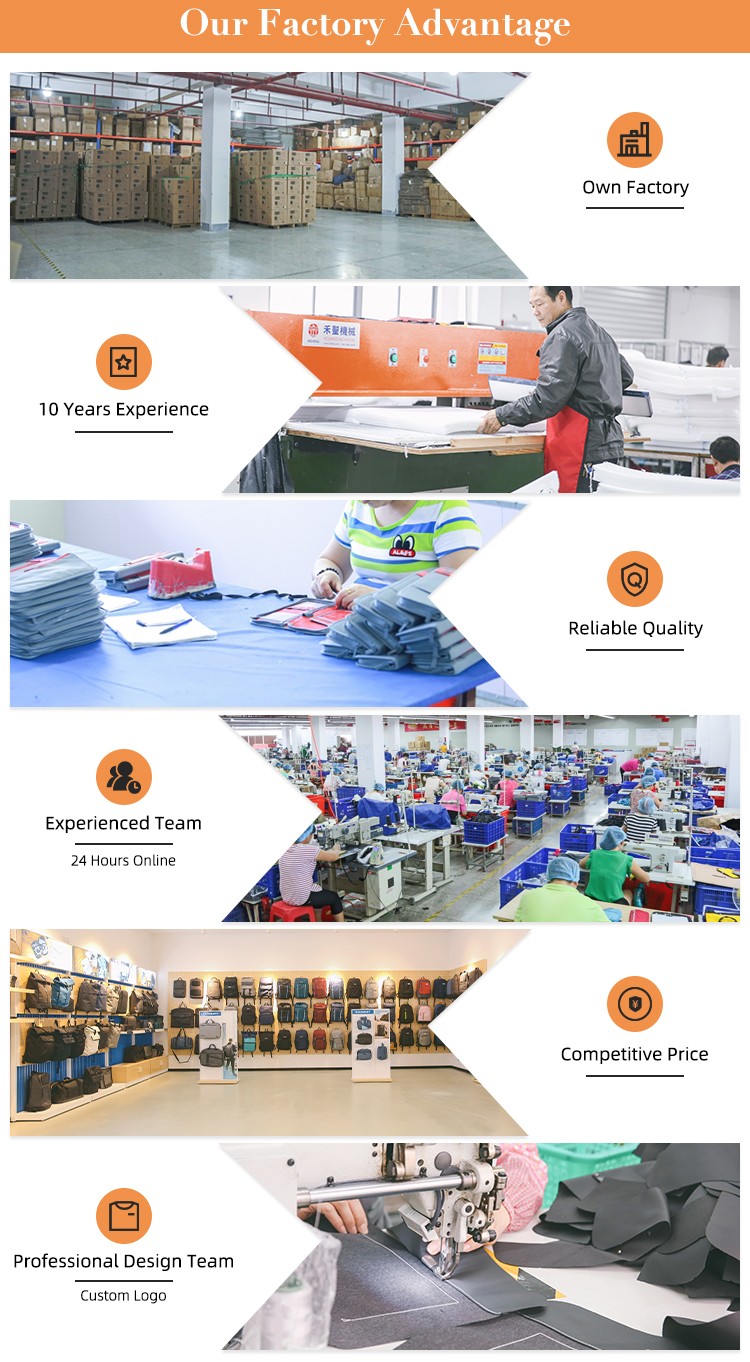 SPECS:
Dimensions: 10.2'' L x 7.9'' W x 2.4''H; Weight: 0.26kg/ 0.57 pounds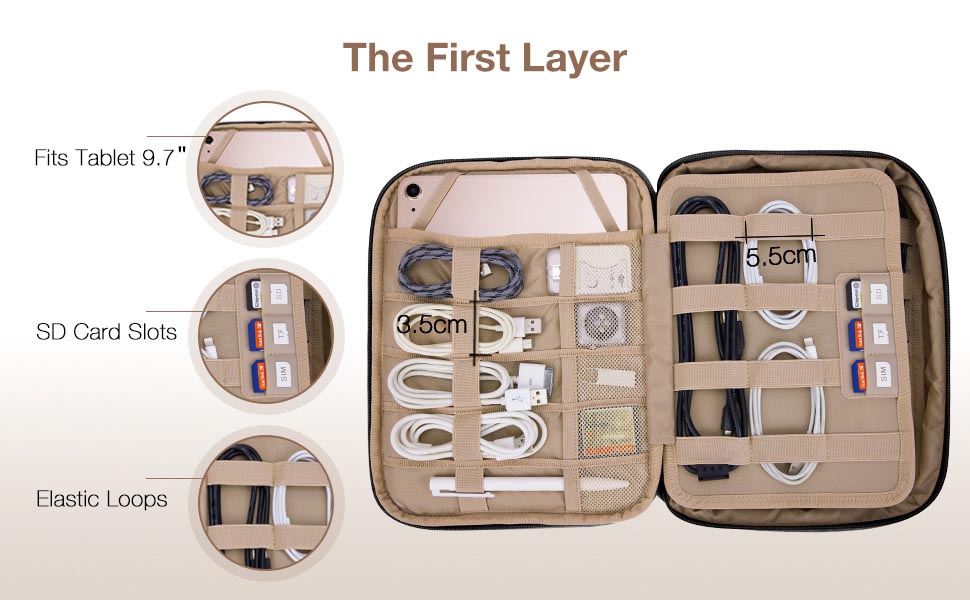 DESCRIPTION:
1 large internal pocket can store 9.7'' iPad, iPad air or portable hard drive.

5 small slip-resistant elastic loops for storing short cords, USB cables, pens, earphones.

3 SD card pouches to prevent SD card, SIM card from missing.

10 elastic loops for keeping longer cables, chargers, etc.
4 slip-resistant elastic loops(L) for storing thicker cables, iPad charger, Mac and Chromebook adapter, power bank.

1 mesh pocket for storing larger electronic accessories, like mouse.

1 back zipper pocket for quick access to items.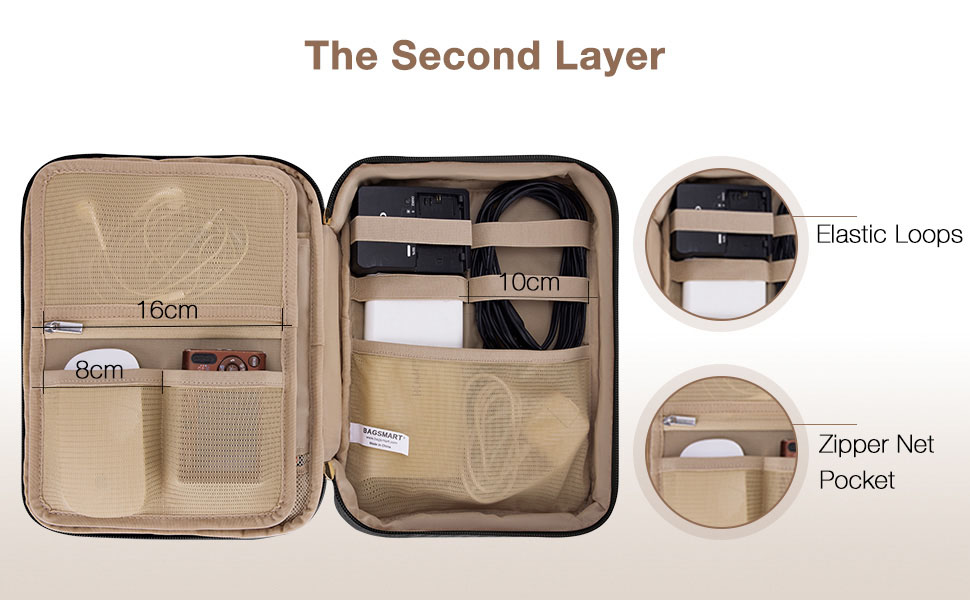 KEY ATTRIBUTE:
Upper Layer
Inter layer
Bottom layer
Outer Pocket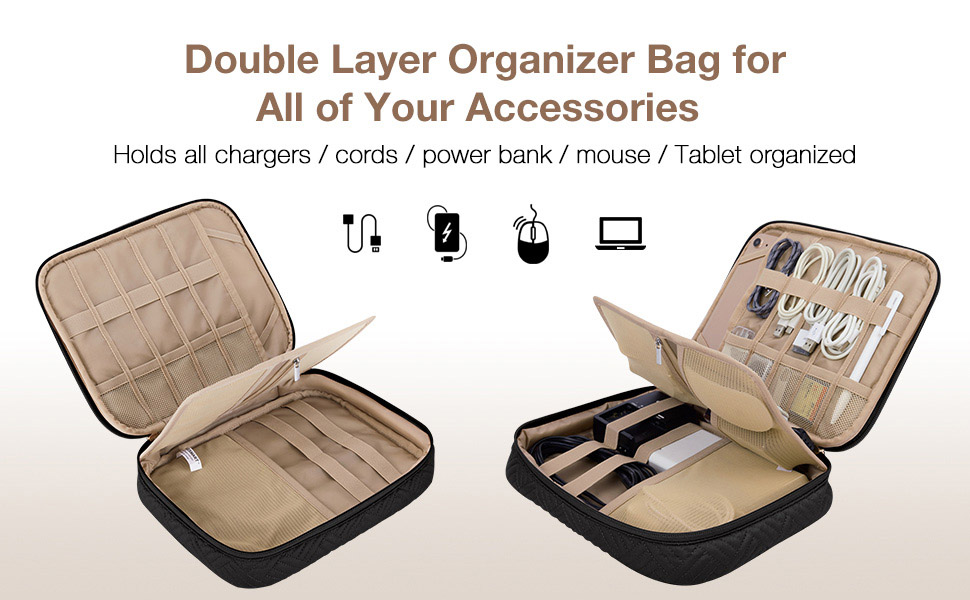 FEATURE:
Well padded compartment offers excellent protection for your accessories.
Front pocket design for charging your cell phone directly without removing your charger or USB cable from the bag.
Multiple mesh pockets and elasticized segments of various sizes provide excellent flexibility to help you maximize its storage space.
It can serve as a travel checklist. Before you leave a place, just open the case and check if everything is there, preventing you from leaving things behind.